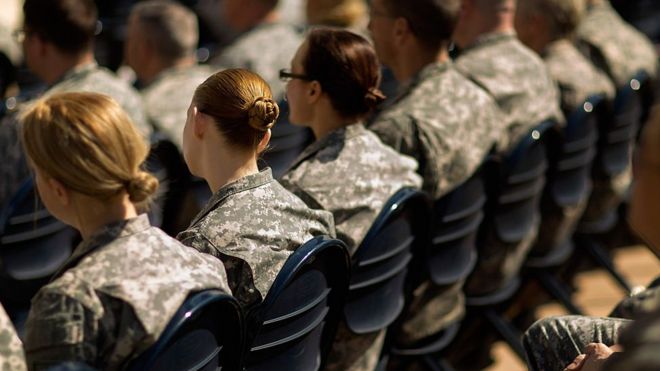 Pentagon officials commemorate Sexual Assault Awareness and Prevention Month in March 2015
The US military has reported a major spike in sexual assaults despite years of efforts to address the problem.
Figures show 20,500 instances of unwanted sexual contact occurred in 2018, up from 14,900 in 2016 which is the last time a survey was conducted.
Alcohol was involved in one third of cases, and female recruits ages 17 to 24 are at the highest risk of attack.
On Thursday, Acting Defence Secretary Patrick Shanahan directed the military to "criminalise" sexual harassment.
Sexual harassment can fall within other legal violations of military behaviour, but is not yet a "stand-alone" criminal offence.
The directive from Mr Shanahan was among a series of other recommendations, released in a memo on Thursday.
"Sexual assault is illegal and immoral, is inconsistent with the military's mission and will not be tolerated," he wrote.
In the US, sexual harassment is illegal, considered a form of sexual discrimination under Title VII of the Civil Rights Act, which also covers discrimination based on race, skin colour, religion and national origin.
What does the report show?
The report released on Thursday surveyed the Army, Navy, Air Force and Marines, and estimated a total of 20,500 cases in 2018.
The total figure is based reports of attacks as well as an extrapolation of survey data which was gathered through a poll of over 100,000 troops. Researchers say the survey has a 95% level of confidence.
Incidents of unwanted sexual contact - which ranges from groping to rape - rose by around 38% between 2016 and 2018.
Only one out of three cases were reported to authorities, the report found.
In 2006, only one in 14 victims reported sexual assault crimes, the Pentagon said.
In a statement issued on Thursday, the Marines acknowledged they had "historically viewed an increase in reporting as an indicator Marines feel more empowered to report more confident in the care victims receive".
"However, with the number of estimated assaults rising, especially among our young Marines, the Marine Corps must evolve its prevention methods and continue to foster a climate and culture of dignity, respect and trust," the statement said.
Service members who reported sexual assault v estimated totals
For incidents during military service
Source: US Department of Defense

In more than 85% of cases, victims knew their attacker. The majority of cases involved young women whose attacker was often a superior officer.
The report should be "a trip wire", said Nate Galbreath, Deputy Director of the Department' of Defense's Sexual Assault Prevention and Response Office.
"This is what tells us that there's something going on that we need to hone in on," he told ABC News.
"We've got a higher prevalence for women 17 to 24. We're going to be focusing very, very tightly on that."
US senator: Air Force officer raped me
US marines in nude photo sharing scandal Gruelling test for female US marines
What is the reaction?
Congress woman Jackie Speier, who chairs the House Armed Services Committee's personnel panel, told the USA Today newspaper that the military "must accept that current programmes are simply not working".
"Congress must lead the way in forcing the department to take more aggressive approaches to fighting this scourge," she said, calling for intervention from US lawmakers.
On Thursday, Mr Shanahan revealed some of the recommendations made by the Sexual Assault Accountability and Investigation Task Force, which was created last month after the urging of Senator Martha McSally. 
Media caption Senator Martha McSally: "I was ashamed and confused". Senator McSally, who was the first female US fighter pilot to fly in combat, revealed in March that she had been raped by a superior officer while serving in the Air Force.
In response to the report, Mr Shanahan directed the US Department of Defence "criminalise" sexual harassment "to combat this scourge".
He detailed prevention, accountability and support efforts in order to "eliminate" sexual assault, including new methods of identifying repeat offenders.
"We must, and will, do better," he wrote in the memo.
It is unclear if he would need congressional approval to make changes to the Uniform Code of Military Justice - the US military's legal code, to make the offence a "stand-alone crime".
In his memo, Mr Shanahan also announced plans to train commanders in a new programme to uncover serial sex offenders.
"To put it bluntly, we are not performing to the standards and expectations we have for ourselves or for each other," Mr Shanahan said.
"This is unacceptable. We cannot shrink from facing the challenge head on."
In a series of tweets, Gen Robert B. Neller, the highest ranking officer in the US Marine Corps, joined in condemning the behaviour captured by the study.
Image Copyright @CMC_MarineCorps@CMC_MARINECORPS
Report
According to the report, compared with the Navy, Army, Air force and Coast guard, the Marines had the highest rates of sexual assault throughout the US Armed Forces - sitting at 11%.
"Marines know that sexual assault is a crime," Gen Neller wrote. "We are better than this."
Democratic Senator and 2020 presidential contender Kirsten Gillibrand also responded on Twitter, calling on Congress to take action where the defence department has "repeatedly failed".
Sen Gillibrand has been an outspoken advocate of victims of sexual assault and has pressed for legislation to make it easier to prosecute sexual violence in the military.
In her tweets, she cited a 2013 statement from the chairmen of the Joint Chiefs of Staff - the highest US military post - that called sexual assault in the military a "crisis".
Image Copyright @gillibrandny@GILLIBRANDNY
Report